The 2019 version of ZoneAlarm Extreme released on 4/29/2019 now has Anti-ransomware built in.
You will only get this message during installation of Extreme if you have the original standalone version of Anti-ransomware installed on your PC.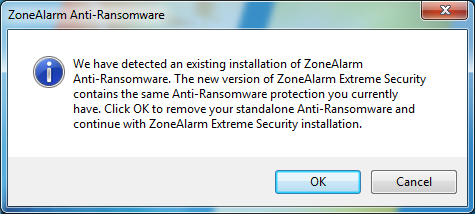 We suggest you click the OK button when you receive this message and during the installation process of Extreme and your standalone version of Anti-Ransomware will be uninstalled and replaced with the built in version of Anti-Ransomware in the new 2019 Extreme Security.
The Anti-Ransomware built into Extreme is identical to the stand alone version except that you will not have an extra icon in your system tray in the lower right corner of your desktop anymore. Anti-Ransomware will be part of the Extreme program and you can access it in the Extreme program interface.
If you have any questions please contact technical support.